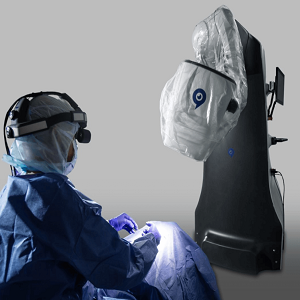 BHS TECHNOLOGIES
Enter a new era of digital sugical technology with RoboticScope®.
No eyepieces and no microscope, but a head-mounted display (HMD) and a robot camera.
With the HMD on the head, the surgeon has 2 digital microdisplays right in front of his eyes. The HMD detects the head movements of the surgeon and controls the robot camera accordingly. The robotic camera is located above the surgical field and transmits high-resolution 3D images to the HMD in real time.